Machine Learning's Growing Role in Research
Published:
Author(s) and Contributors:
Source(s) and Collection(s):
ParentTopics: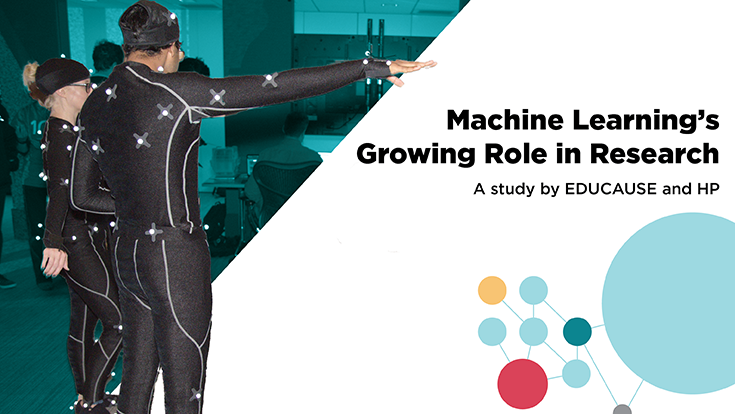 In the summer and fall of 2020, EDUCAUSE and HP partnered on a research project to explore how machine learning and AI are being employed by researchers across higher education. In particular, this research project investigates the types of machine learning and AI technologies—both hardware and software—that researchers across different disciplines are employing as they design and conduct their research.
Additionally, this research explores the methods and practices that IT managers and departments are utilizing to develop processes and infrastructure to support the researchers at their institutions, especially those who are just beginning to explore how machine learning can improve their research.
Read full report | Other materials
IT Needs and Challenges
Demand is increasing for staff who can run and support machine learning technology. Setting up, running, and maintaining machine learning technology requires very specific skills. Staff with these responsibilities need to be aware of how machine learning pipelines work and how to help inexperienced researchers design and develop workflows for their research.
Read more about IT needs and challenges >

---
IT Best Practices
A focus on funding and self-sustainment can ensure continued research. Building and hosting local machine learning workstations can require substantial up-front investments, in terms of both cost and labor. Higher education IT units cannot afford to take that kind of investment lightly, but there are several ways to lighten the burden in both the short and the long term.
Read more about IT best practices >

---
Faculty and Researcher Needs and Challenges
More students are taking classes in machine learning. Every interviewee in this project reported that undergraduate and graduate courses in machine learning have seen rising interest from students.
Read more about faculty and researcher needs and challenges >

---
Faculty and Researcher Best Practices
For researchers, building communication lines with IT can help both groups avoid common issues and pain points, while ensuring the right technology is available to accomplish research goals. Additionally, researchers can build and streamline their machine learning workflows by reaching out to IT and others in the community.
Read more about faculty and researcher best practices >

---
Report and Supporting Materials
Other Resources You Might Find Helpful: