2023 EDUCAUSE Horizon Report | Teaching and Learning Edition
Published:
Author(s) and Contributors:
Source(s) and Collection(s):
ParentTopics: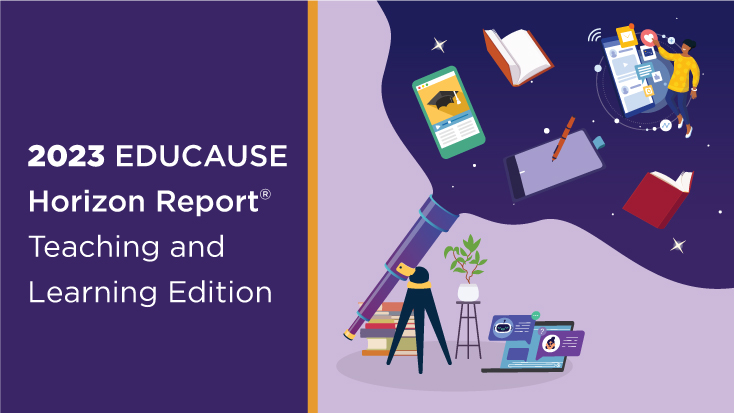 This report profiles key trends and emerging technologies and practices shaping the future of teaching and learning, and envisions a number of scenarios and implications for that future. It is based on the perspectives and expertise of a global panel of leaders from across the higher education landscape.
Read full report: PDF | Other materials
The Future of Teaching and Learning
Artificial intelligence (AI) has taken the world by storm, with new AI-powered tools such as ChatGPT opening up new opportunities in higher education for content creation, communication, and learning, while also raising new concerns about the misuses and overreach of technology. Our shared humanity has also become a key focal point within higher education, as faculty and leaders continue to wrestle with understanding and meeting the diverse needs of students and to find ways of cultivating institutional communities that support student well-being and belonging.
For this year's teaching and learning Horizon Report, then, our panelists' discussions oscillated between these seemingly polar ideas: the supplanting of human activity with powerful new technological capabilities, and the need for more humanity at the center of everything we do. This report summarizes the results of those discussions and serves as one vantage point on where our future may be headed.
Read more about the Horizon Report on page 4 >
---
Trends: Scanning the Horizon

This section of the report describes the trends that are going to shape the future of global higher education teaching and learning.
Read more about these trends on page 6 >
---
Key Technologies & Practices

This section of the report details six key technologies and practices that will have a significant impact on higher education teaching and learning. Included in this section are college and university exemplar projects demonstrating the impact of the technologies and practices.
Learn more about the emerging technologies and practices on page 18 >
---
Scenarios

This year's report envisions a number of scenarios for the future of teaching and learning for which we can start to prepare today.
Read the possible future scenarios on page 31 >
---
Implications: What Do We Do Now?

This section features seven Horizon panelists exploring the report's findings through their own unique lens and offers reflections on the following questions: What should we do now? What plans should we make?
Read the essays exploring key issues in global higher ed on page 36 >
---
Expert Panel
The 2023 Horizon panel comprised 55 higher education experts from around the globe.
See the Expert Panel on page 54 >
---
Reports and Supporting Materials
---
---
Issues, Technologies, and Trends Resources
Higher education leaders and decision makers use the annual Issues, Technologies, and Trends resources—the EDUCAUSE Top 10, Trend Watch report, and the Horizon Reports—to know what's important and where to focus in their IT planning and management activities. When viewed together these resources provide more complete and nuanced guidance on institutional IT priorities.
EDUCAUSE Horizon Report is a registered trademark of EDUCAUSE.