2021 EDUCAUSE Horizon Report® | Teaching and Learning Edition
Published:
Author(s) and Contributors:
Source(s) and Collection(s):
ParentTopics: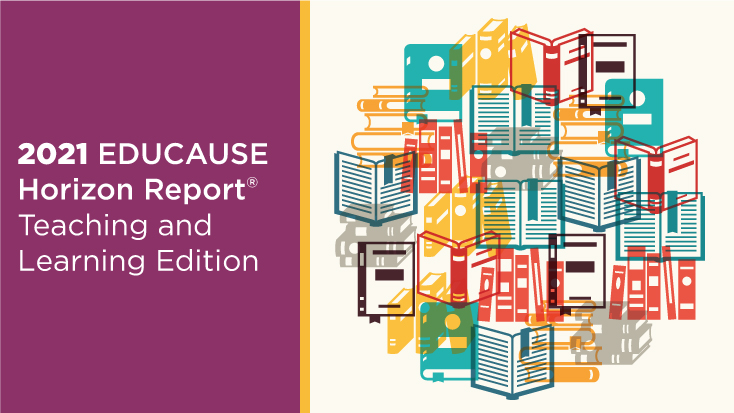 This report profiles key trends and emerging technologies and practices shaping the future of teaching and learning and envisions a number of scenarios and implications for that future. It is based on the perspectives and expertise of a global panel of leaders from across the higher education landscape.
Read full report: PDF | Other materials
The Future of Teaching and Learning
The COVID-19 pandemic has transformed the higher education landscape. Though it remains to be seen whether those transformations have taken root and will persist into the future, it isn't hard to imagine that higher education may never be the same in some important ways (good or bad).
Indeed, the potential lasting effects of the pandemic loomed large in our Horizon panelists' discussions and nominations this year as they identified the trends, technologies, and practices shaping the future of teaching and learning. This report summarizes the results of those discussions and nominations and serves as one vantage point on where our post-pandemic future may be headed.
Read more about the Horizon report on page 4 >
---
Trends: Scanning the Horizon

This section of the report describes the trends that are shaping the future of global higher education teaching and learning.
Read more about these trends on page 6 >
---
Key Technologies & Practices

This section of the report details six key technologies and practices that will have a significant impact on higher education teaching and learning. Included in this section are college and university exemplar projects demonstrating the impact of the technologies and practices.
Learn more about the emerging technologies and practices on page 12 >
---
Scenarios

This year's report envisions a numbers of scenarios for the future of teaching and learning for which we can start to prepare today.
Read the possible future scenarios on page 31 >
---
Implications: What Do We Do Now?

This section features five Horizon panelists reflecting on the report's findings and their thoughts on the the ways in which issues overlap, diverge, and intersect in different parts of the world and at institutions of different sizes and types.
Read the essays exploring key issues in global higher ed on page 36 >
---
Expert Panel
The 2021 Horizon panel comprised 72 higher education experts from around the globe.
See the Expert Panel on page 49 >
---
Reports and Supporting Materials
If your organization is interested in translating this report, please complete this form.
* Report file updated May 27, 2021.
** This translation was produced by the SISU Center for Comparative Study of Global Education. If you have questions about this version, please contact Elise Luo ([email protected]).
---
---
Issues, Technologies, and Trends Resources
Higher education leaders and decision makers use the annual Issues, Technologies, and Trends resources—the Top IT Issues, Trend Watch report, and the Horizon Reports—to know what's important and where to focus in their IT planning and management activities. When viewed together these resources provide more complete and nuanced guidance on institutional IT priorities.
EDUCAUSE Horizon Report is a registered trademark of EDUCAUSE.