2020 EDUCAUSE Horizon Report™ | Teaching and Learning Edition
Published:
Author(s) and Contributors:
Source(s) and Collection(s):
ParentTopics: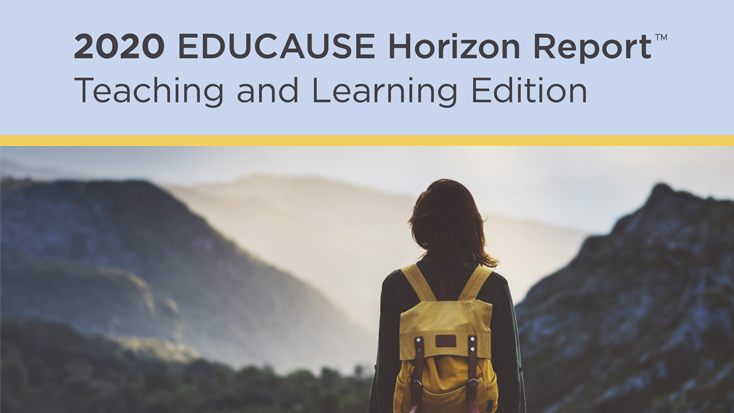 This report profiles key trends and emerging technologies and practices shaping the future of teaching and learning and envisions a number of scenarios and implications for that future. It is based on the perspectives and expertise of a global panel of leaders from across the higher education landscape.
Read full report: PDF | Other materials
Anticipating the Future of Teaching and Learning
Anticipating the future is human nature, but it can be risky. In our first major revision of the Horizon Report's methodology, EDUCAUSE recognizes and embraces that challenge. We've recast the report by updating its methodology and structure, while keeping its essential purpose of looking at what will most impact teaching and learning in the future.
New this year! For the educational technologies, you'll find we've moved away from the time-to-adoption structure of the past and in its place have offered evidence, data, and scenarios that inform what the future might look like. You'll also find a new section that illustrates the way the findings identified in the report are having an impact on different sizes and types of institutions around the world.
Our goal was to create a report that will enable you to learn, plan, and act on all that is influencing higher education teaching and learning, now and in the future.
Read more about the new Horizon Report on page 4 >
---
Trends: Scanning the Horizon

This section of the report describes the trends that are currently influencing global higher education teaching and learning and will continue to shape the future.
Read more about these trends on page 7 >
---
Emerging Technologies & Practices

This section of the report details six emerging technologies and practices that are beginning to have a significant impact on the future of postsecondary teaching and learning. Included in this section are college and university exemplar projects demonstrating the impact of the technologies and practices.
Learn more about the emerging technologies and practices on page 13 >
---
Possible Scenarios (In 10 Years)

This year's report paints brief but evocative portraits of four possible future scenarios for postsecondary teaching and learning.
Read the possible future scenarios on page 32 >
---
Implications: What Do We Do Now?

This brand-new section features nine Horizon panelists reflecting on the report's findings and illustrating the ways in which issues overlap, diverge, and intersect in different parts of the world and at institutions of different sizes and types.
Read the essays exploring key issues in global higher ed on page 37 >
---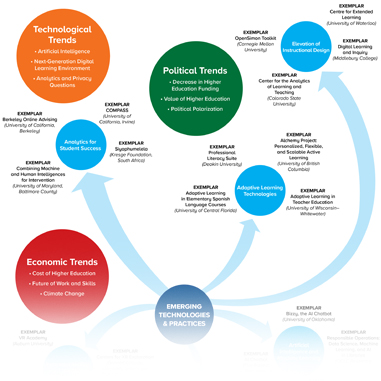 Mind Map
The Horizon Report mind map is a new visual representation of key concepts found within the report, with connections to related community exemplar projects. This resource will be useful for quick familiarization and easy sharing with colleagues in your organization and serves as a springboard for deeper exploration into the full Horizon Report.
Download the Emerging Technologies/Practices and Influential Trends, 2020 mind map now.
---
Reports and Supporting Materials
*This translation was produced by the Korea Education and Research Information Service (KERIS). If you have questions about this version, please contact Hyoeun Shin ([email protected])
**This translation was produced by Multimedia Kontor Hamburg (MMKH). If you have questions about this version, please contact Helga Bechmann ([email protected]).
---
Expert Panel
The 2020 Horizon panel was comprised of 54 higher education experts from around the globe. See the Expert Panel on page 58 >
---
---
Issues, Technologies, and Trends Resources
Higher education leaders and decision makers use the annual Issues, Technologies, and Trends resources—the Top 10 IT Issues, the Strategic Technologies and Trends, and the Horizon Report—to know what's important and where to focus their IT planning and management activities. When viewed together, these resources provide a more complete and nuanced guidance on institutional IT priorities.
EDUCAUSE Horizon Report is a trademark of EDUCAUSE.