2023 EDUCAUSE Horizon Report | Holistic Student Experience Edition
Published:
Author(s) and Contributors:
Source(s) and Collection(s):
ParentTopics: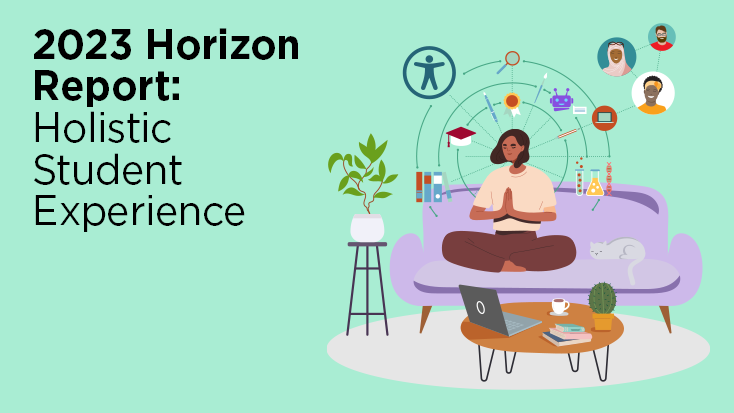 This report profiles the trends and key technologies and practices shaping the future of the holistic student experience, and envisions a number of scenarios for that future. It is based on the perspectives and expertise of a global panel of leaders from across the higher education landscape.
Read full report: PDF | Other materials
Want to share this report? Use our toolkit.
The Future of the Holistic Student Experience
Increasingly, higher education stakeholders are recognizing the value—and the imperative—of empowering students to bring their whole selves to college and, to that end, are providing holistic programming and learning opportunities. Fostering student connection and belonging through multiple modalities and providing proactive and wide-ranging mental health resources while attending to issues of accessibility and inclusion are increasingly common on campuses.
For this Horizon Report edition focusing on supporting the holistic student experience in higher education, panelist discussion reflected these themes and mind-set. This report summarizes the results of those discussions and offers a grounded perspective on multiple possibilities for where our future may be headed.
Read more about the Horizon report on page 4 >
---
Trends: Scanning the Horizon

This section of the report describes the trends that are going to shape the future of the holistic student experience.
Read more about these trends on page 6 >
---
Key Technologies & Practices

This section of the report details six key technologies and practices that will have a significant impact on the holistic student experience. Included in this section are college and university exemplar projects demonstrating the impact of the technologies and practices.
Learn more about the key technologies and practices on page 18 >
---
Scenarios

This report envisions a number of scenarios for the future of the holistic student experience for which we can start to prepare today.
Read the possible future scenarios on page 37 >
---
Expert Panel
The 2023 Horizon panel comprised 59 higher education experts from around the globe.
See the Expert Panel on page 45 >
---
Reports and Supporting Materials
---
---
Issues, Technologies, and Trends Resources
Higher education leaders and decision makers use the annual Issues, Technologies, and Trends resources—the Top IT Issues, Trend Watch report, and the Horizon Reports—to know what's important and where to focus in their IT planning and management activities. When viewed together these resources provide more complete and nuanced guidance on institutional IT priorities.
EDUCAUSE Horizon Report is a registered trademark of EDUCAUSE.